Recently we had the honor of interviewing Unusual Suspects alumni, Destiny Cable. We got to know Destiny while she was a student in our Playwriting and Performance programs at Vaughn Middle School from 2012-2014. This summer we were excited to learn that not only is she continuing to pursue her theatre studies, but she wanted to support current Unusual Suspects students as an Alumni Volunteer Mentor. We thought it was a great time to catch up with Destiny and are so inspired by her commitment to finding opportunities for creative growth while giving back to the community!
The Unusual Suspects (US): How did you first get involved with The Unusual Suspects?
Destiny Cable (DC): I was in 7th grade at Vaughn Middle School, and at the time, there was nothing at my school that related to theatre, which was what I was interested in. One day I heard on the intercom that there would be a theatre company coming to do workshops, and I decided, I'm going to jump on this opportunity. I experienced it, and I really liked it, so I came back in 8th grade.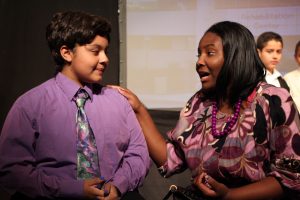 US: What are your best memories from US?
DC: It was all so memorable. In general, the program as a whole was super useful and inspiring, and the experience has had an impact on me. The best part was knowing that all of the teaching artists (TAs) were there for you and that there were no bad ideas—the TAs were supportive of all ideas. I had never experienced that in a school environment. Usually it's "one way" or you're wrong. I got really comfortable and secure in what I believe. That helped me grow and The Unusual Suspects helped give other people a space to have their ideas heard. I also remember so many people who were shy, and after doing The Unusual Suspects they are so much more open.
US: This past summer you took your theatrical training to a new level by participating in the Musical Theatre Summer Institute at the University of California, Los Angeles (UCLA). What made you decide to participate in this experience?
DC: I wanted to do something for myself, and if I want to be a performer, I can't complain about how my school doesn't have what I want. I had applied to two programs in New York, but I either didn't get in or wasn't able to get the money to cover the cost of participating. I was feeling hopeless, but my teacher told me about the UCLA summer program. I decided that one last try wouldn't hurt, so I sent in my application and when I got the email that read "you're now enrolled!" I was so happy and excited.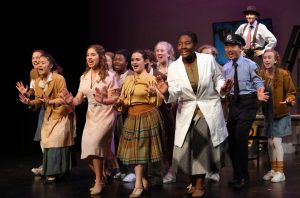 US: What was the summer like at UCLA?
DC:  We put together a final showcase in 3 weeks. It was fun and it was intense, but it was the most exhilarating time I've ever had. After the experience was over, I felt super proud to have been there with all those talented people and hardworking individuals. Out of everyone who applied, I got in, and it made me see myself differently. Sometimes I base my success off of what other people have going on. After the show it made me see that I can't look at other people's lives and get mad at myself. Everyone has a way of approaching things that works for them. It might have taken me a while to work hard to do something for myself, but regardless I still did it.
US: This past fall we had the privilege of having you with our Vaughn Middle School program as an Alumni Mentor. We are looking forward to having you back this spring, too! What is it like being a mentor?
DC: Being a mentor is fun and makes me feel nostalgic. It feels good to know that I'm in a position where I can give kids the support that I got when I was in middle school. I feel like I'm there to learn just as much as they are and participate with them. It's a collaborative environment.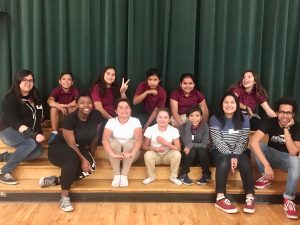 US: What is something you feel like you've learned through the mentorship process?
DC: I've learned that some of the youth that I'm working with may have difficulty processing information or rules and directions. If we tell them we're going to start writing ideas, they may have a hard time processing it and they may be still stuck on what we were doing before. I'm not a very patient person, but by becoming a mentor my patience has grown tremendously. Being one of the youngest mentors, I'm sort of the middle ground between the younger students and the teaching artists so I can serve as a good example. Despite their difficulties learning or taking direction, every single one of the kids give amazing ideas and contribute in a way that's so profound and appreciated.
US: What is something you've brought to the workshop space that is unique because you're an alumna of the program?
DC: Because I've been in US I can bring an understanding of being in the program as a middle school student. I remember that, as a student, there were things that would happen at school and at home that would make me check in at a low number, but by the end of the workshop I would feel better and be able to check out on a higher number. [**note: at the beginning and end of every US workshop, students share how they are feeling by checking-in on a scale from 1-10**]  Whenever students checked in at a low number, I would try to be there for them and make sure that each day we have a workshop is a day that will boost their mood and they'll leave on a high note.
US: How has being a part of US changed since becoming a mentor?
DC: It's changed in the sense that now I see that The Unusual Suspects is not just about working with kids and putting on a show. It's about getting to know kids, knowing how they work, and building bonds that help show them that it's ok to think outside the box and be yourself. You provide that foundation for youth. As a member I didn't necessarily see that, but as a mentor now I see it and appreciate it so much.
US: You're a high school senior this year: what are you up to these days?
DC: This fall I was applying for scholarships and college. In the future, I want to start a club or program that brings improv and theatre and performance to kids who aren't as privileged. I want to work in homeless shelters and do for others what you guys did for me. We don't realize how much power we actually have. We need to grab ahold of it and use it for the greater good. Maybe there is something we didn't get to have, but we can use what we have now to give it to others.
US: Where do you see yourself next year?
DC: Whatever will be will be –"que será será." I'm thinking about getting a Liberal Arts college experience; If I could be anywhere I would like to be at Howard University. After graduating maybe I'd come back to California and apply to American Conservatory Theatre for an MFA.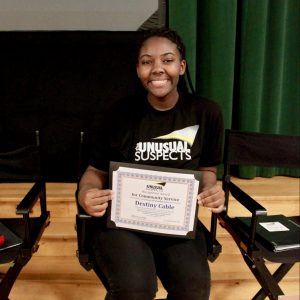 US: Anything else you want to share?
DC: I am really grateful that The Unusual Suspects gave me this opportunity, and I look forward to venturing out into the world!