Zach Brown and Tiffany Haddish share our deep belief in the power of mentorship to help youth recognize their full potential, and now it's our turn to recognize them!
A Bird's Eye View of US
You know all about what we do, but do you know where we do it?
Our Programs team travels all over Los Angeles every week!

From Lancaster to South LA, we believe in fostering long-lasting relationships with our partners, built on communication and a mutual investment in creating opportunities for connection

and creative expression

. The Unusual Suspects' impact continues to grow, thanks to hours of grassroots outreach and the support of partners across the county.
Youth with the Power to Speak Up
"The activists are grieving, too, but it's not a coincidence that a disproportionate number of the Never Again leaders are dedicated members of the drama club."
This powerful article from the New Yorker is a reminder that even in the darkest times, our work connects to the world around us. In the wake of the tragedy at Marjory Stoneman Douglas High School, we are inspired by the students who are raising their voices and rallying others to join them in making change. In every workshop, we help our students to develop the confidence and collaboration skills needed to create the kind of world they want to live in. The Unusual Suspects believe that youth have the power to speak up, come together, and change the world.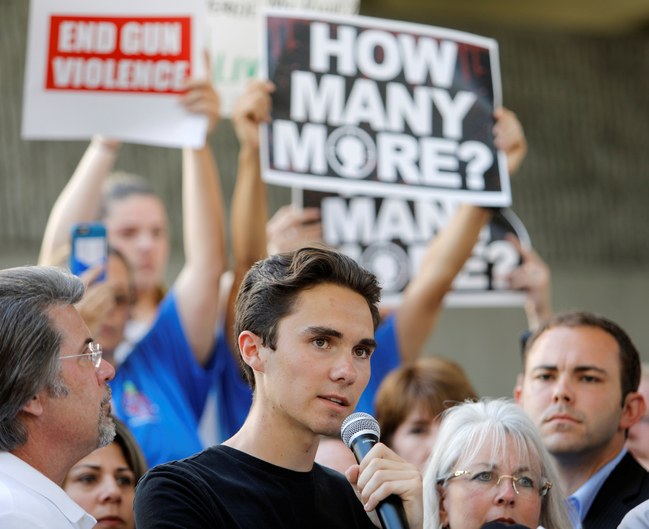 "David Hogg is one of the students of Marjory Stoneman Douglas High, in Parkland, Florida, who started the Never Again movement, to advocate for gun control, after a mass shooting at their school." Source: The New Yorker. Photograph by Jonathan Drake / Reuters
Where In The World Are The Suspects?
We've been busy working to strengthen our programs and spread word of our work! 
Wednesday, January 31st … 
Melissa took the stage for The Annenberg Foundation's Alchemy Plus panel to discuss Board Governance and Diversity, Equity, and Inclusion.
Tuesday, February 6th … 
Adrienne was spotted joining the conversation at the El Nido Community Partners meeting in Pacoima. 
Thursday, February 8th … 
Yolanda was discovered with Board Chair Karine Rosenthal at a screening of Notes from the Field, based on the one-woman play by Anna Deavere Smith about the "school-to-prison pipeline."
Wednesday, February 14th …
Melissa and Meisha gathered with a cohort of fellow LA nonprofits for Bright Spots Learning Lab, sponsored by The Center for Non Profit Management.
Friday, February 16th …
Melissa, Adrienne, Yolanda & Ariella were spotted attending the Urban Youth Culture Competency and Engagement Training, sponsored by Vision 20/20 and Flintridge Center.
Wednesday, February 21st … 
Melissa was a featured guest speaker at the University of Southern California's Social Work and the Arts Incubator Meeting.
The Unusual Suspects Theatre Company believes every young person deserves to be seen, heard and understood.
Through collaborative workshops, we work deeply to empower the hardest to reach communities to tell their stories together
leading to self-discovery, a sense of belonging, and the building of stronger families and communities.