Thanks to a generous grant from Women Helping Youth (WHY), every Youth Theatre Residency Program now has access to professional production tools that enable our students to learn production design while enhancing their creative storytelling! 
WHY is a women's philanthropic organization committed to improving the physical, mental and emotional well-being of children and young adults in need in the Los Angeles area by combining individual donations to create a larger pool of funds with which to make a difference in the lives of youth.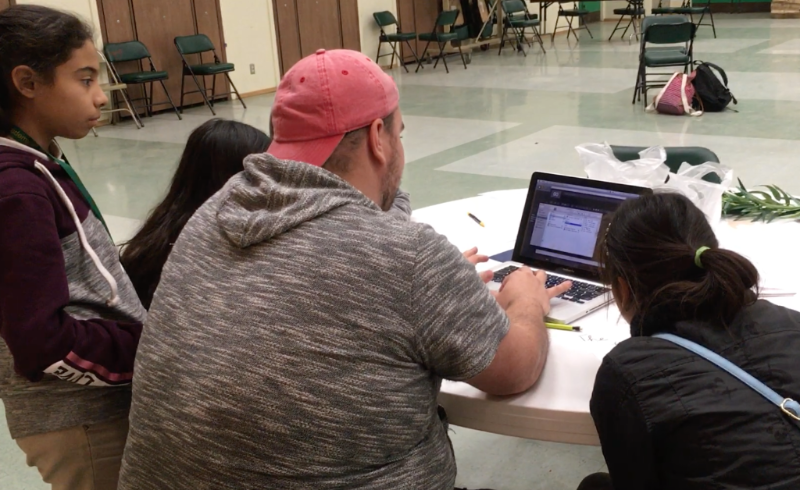 TOP LEFT: US Technical Assistant Marilee Spencer leads a student through running sound and lighting cues. TOP RIGHT: US Students lead a warm-up exercise, illuminated by our new lighting equipment. BOTTOM: US Technical Coordinator Michael McClain shows students how to use QLab, a design tool for theatrical sound, lighting, and projections.
Where In The World Are The Suspects?
We've been busy working to strengthen our programs and spread word of our work! 
Saturday, February 24th … Adrienne worked with two of our Teaching Artists to lead two Parent PrACTica workshops at Vaughn Next Century Learning Center's first College and Career Fair.
Friday, March 2nd … Yolanda and Adrienne were spotted supporting students in our VAST Program at San Fernando High School at their culminating performance.
Saturday, March 17th … Yolanda and Adrienne were discovered with our Neighborhood Voices participants at Second City Hollywood for a Theatre and Culture Access Program field trip to see #Right2Recess.
Sunday, March 18th … Yolanda, Adrienne, and Ariella were spied at the presentation of learning and staged reading of Consequence is No Coincidence: The Story of A Lost Soul, written and performed by our students at Camp Gregory Jarvis in Lancaster.
Monday, March 19th … Melissa and Meisha were found at an LA County Arts Commission Cultural Equity and Inclusion Initiative Workshop.
The Unusual Suspects Theatre Company believes every young person deserves to be seen, heard and understood. Through collaborative workshops, we work deeply to empower the hardest to reach communities to tell their stories together leading to self-discovery, a sense of belonging, and the building of stronger families and communities.